OptiGraft™ Sterile Ophthalmic Allografts

Stephens Instruments is proud to be a distributor of OptiGraft Sterile Ophthalmic Allografts, the premium choice for glaucoma and corneal applications.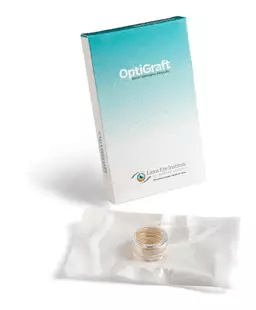 Hydrated, irradiated, sterile tissue has long been the gold standard for ocular patch graft options. Its low risk of post-surgical infection or immune rejection and shelf life are obvious advantages. High operational costs and reimbursement concerns have hampered widespread use until now.
OptiGraft sterile ophthalmic allografts make high-quality, shelf-stable, terminally-sterilized tissue an affordable option for glaucoma and corneal procedures. Developed by the Lions Eye Institute for Transplant & Research (LEITR), OptiGraft offers a range of practical and clinical benefits.